Observers can make photos and videos without violating secrecy of voting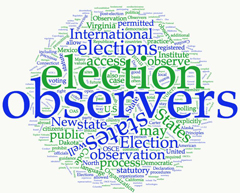 According to Article 10 of the Constitutional Law of the Kyrgyz Republic, on the voting day, public observers have the right to freely conduct photo and video shooting without violating the secrecy of the vote. Atyr Abdrakhmatova, member of the Central Commission for Elections and Referendums, informed 24.kg news agency.
She clarified that the phrase «without breaking the secrecy» implies that the recording shouldn't be conducted next to the polling booth and automatically reading ballot box.
Recall, today members of the movement "Nash Vklad» («Our contribution») Taalaygul Toktakunova and Kanatbek Aziz said at a press conference in 24.kg news agency that they figured out how to avoid «carousel» in presidential elections that will be held in the republic on October 15.
According to them, the polling stations in Bishkek, Osh and Kara-Suu will be equipped with a special fixing program that identifies the voter in appearance. If the voter has already voted on one site, he can't do it at another one.  Smartphones of observers will be also provided with the program. According to the creators, this will help to avoid fraud.
link: https://24.kg/english/65475/