Preliminary structure of government of Kyrgyzstan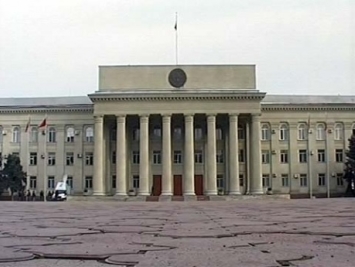 Preliminary structure of government of Kyrgyzstan
The coalition factions of the parliamentary majority coordinate the new composition of the government of Kyrgyzstan. 24.kg news agency was informed in the Parliament.
As noted, there have been determined the candidates for the posts of the first Vice Prime Minister, Deputy Prime Minister on Social Affairs, Minister of Education and Science, Minister of Social Development.
In previous coalition, the Ministry of Agriculture and Land Reclamation was reserved for Onuguu-Progress. It is transferred to Bir Bol in the new alliance, but the faction still has not decided who will be its head.
Preliminary list of government is as follows:
Sooronbay Jeenbekov – Prime Minister;
Sapar Isakov – First Deputy Prime Minister;
Oleg Pankratov – Deputy Prime Minister for Economic Affairs;
Cholpon Sultanbekova (or Almazbek Toktorov) – Deputy Prime Minister for Social Affairs;
The Ministry of Economy and Industry – Arzybek Kozhoshev;
The Ministry of Internal Affairs – Kashkar Dzhunushaliyev;
The Ministry of Justice – Jyldyz Mambetalieva;
The Ministry of Finance – Adylbek Kasymaliev;
The Ministry of Emergency Situations – Kubatbek Boronov;
The Ministry of Agriculture and Land Reclamation – the candidate is not determined;
The Ministry of Social Development – Taalaykul Isakunova;
The Ministry of Education and Science – Gulmira Kudaiberdieva;
The Ministry of Culture, Information and Tourism – Togulbay Kazakov;
The Ministry of Health Care – Talantbek Batyraliev;
The Ministry of Transport and Roads – Zamirbek Aydarov;
The Ministry of Foreign Affairs – Erlan Abdyldaev;
A coalition agreement was signed the day before following the talks. The composition of the parliamentary majority includes 68 deputies out of 120. The leader of SDPK Isa Omurkulov was elected the Chairman of the coalition.
The opposition is Respublika – Ata Jurt, Onuguu-Progress and Ata Meken. Exactly these three factions have now to determine who will head the parliamentary committees on budget, finance and the rule of law, crime and corruption control. Earlier, they were headed by representatives of Bir Bol faction.
http://www.eng.24.kg/vlast/182719-news24.html